Any computer you find on the market can edit a simple video. Even a smartphone can perform this task.
When you're a video editor or filmmaker rendering large files, however, you have to use a computer that's powerful enough to take on graphically intensive tasks.
Professionals in the film industry can choose from a range of computers, from highly portable laptops to high-end desktops. If you're not sure what kind of device you should purchase to help you edit videos effectively, take note of these factors when buying a PC:
Central Processing Unit (CPUs)
Video editing is a task that requires excellent processing power. When searching for a computer specifically for editing films and videos, consider these two CPU criteria:
Processor – You'll need an Intel Core i7 Quadcore processor (or its equivalent) if you're going to run a computer-intensive editing application. Although some editing platforms are ok with Core i5 PCs, your PC may slow down when you're rendering files or adding post-production elements. As much as possible, get a laptop or desktop with a processing speed of 2.3 GHz. This way, you can edit videos without suffering from annoying lags.  
Random Access Memory (RAM) – This factor determines the amount of data your video editing application can work with at a given time. If your job requires you to handle 1080p video files, you'll need a computer with a minimum RAM capacity of 16GB. On the other hand, opt for a PC with 32GB RAM if you'll be frequently working with 4K videos.  
Computer Display
You'll want to choose a laptop or a desktop that offers a high-resolution and color-accurate display. Otherwise, you won't know how your final video will look.
If you're an on-the-go video editor, you'll want to splash out on a laptop that has a built-in, high-quality display panel. On the other hand, you can invest in a better external monitor if you're planning to do your post-production work on a desktop PC.
If you're unable to find an external monitor or a built-in display panel for your desktop or laptop, don't fret. Simply connect your PC to a 4K television and treat your TV as your computer monitor. Just make sure you invest in a High-Definition Multimedia Interface (HDMI) cable to connect your computer to the TV.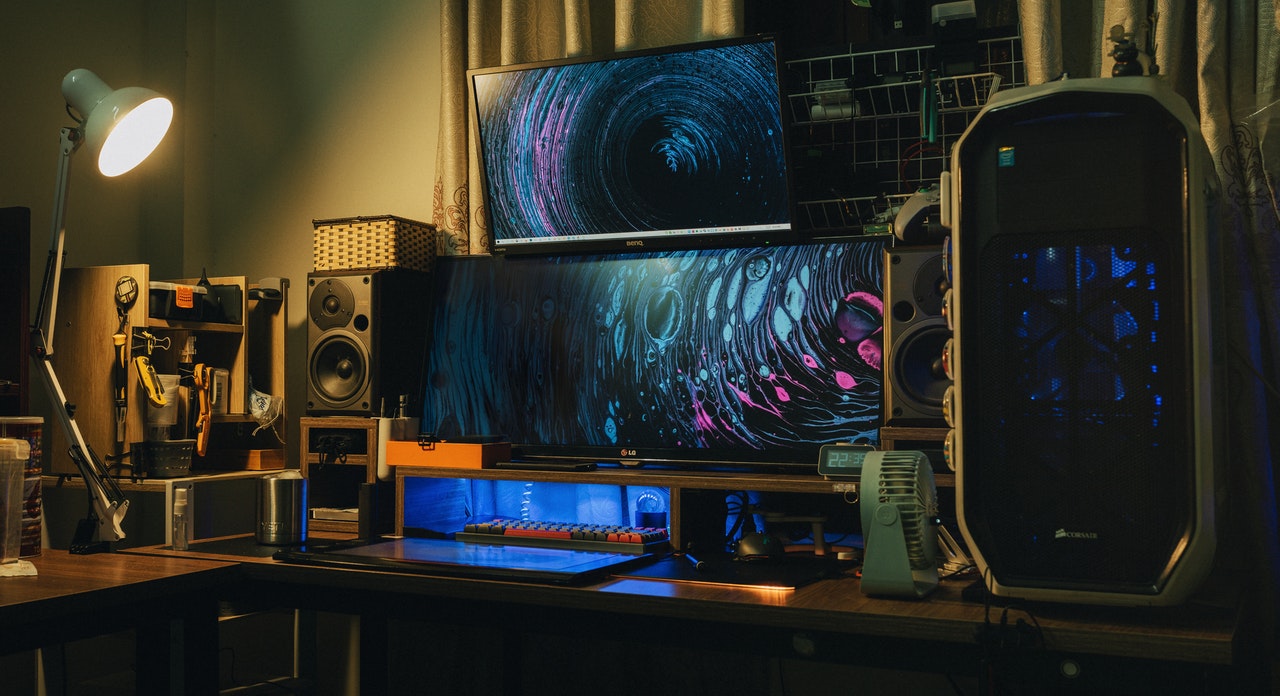 Storage Media Device
You'll need a good amount of storage capacity if you're going to edit videos full-time. The lack of storage space will undermine your video editing work. What's more, it may be costlier in the long run, as you'll have to purchase external hard drives to supplement your internal storage space.
The minimum internal storage capacity you should aim for is 500 GB. This doesn't mean, however, that you should settle for this amount. If you have the money to purchase a desktop or laptop with bigger storage space, go for 1 TB or higher. After all, a higher storage capacity translates to more space to store video files.
Apart from the storage amount, you need to consider the type of storage device that's on your PC. You typically have two options: a solid-state drive (SSD) or a hard disk drive (HDD). Although HDDs are the more affordable option, you'll want to opt for an SSD wherever possible.
Hard disk drives aren't as fast as SSDs in terms of speed. Over time, they'll begin to struggle under the stress of working with 4K videos. When you are compiling multiple clips on an HDD desktop or laptop, you may come across stuttering frames — something you need to avoid during post-production.
Pro-tip: if you're buying a high-end video editing laptop or desktop, you'll want to mount multiple SSDs into your PC. Doing so enables you to effective organize the operating system files, source or raw footage, personal files and completed projects.
Graphics Card
This computer component is responsible for converting the video footage from data into pixels. When you're shopping for a video editing PC, you'll need a reliable and lightning-fast graphics card.
You can choose from two major companies: AMD Graphics and NVIDIA. Make sure you do your homework to find the graphics card that will help you produce high-quality videos.
PC Accessories
You'll want your desktop or laptop to come with features that make your life easier as a video editor. A few of them are:
Headphones – Get a quality pair that can tolerate wear and tear and regular use.
Battery Backup – An uninterruptable power supply (UPS) is a necessity when you're editing. This accessory can help save your entire project in case of a sudden blackout.
SD Card Slot – This is helpful if you need a convenient way to dump audio from pictures or cards.
These five factors are crucial when shopping for a video editing laptop or desktop. Before you take out your wallet, check the PC specs to determine if the device has everything you need to help you deliver quality videos.