We live in a time when working from home is usually the rule and not the exception. The world was already moving towards this trend, but the pandemic accelerated this shift even further. Now more than ever, we need to be creative and resourceful, and we need to use everything at our disposal to make our home offices as comfortable and as conducive to productivity as possible. After all, our environment can greatly influence not just our short-term moods, but our overall mental health and well-being as well
As a rule of thumb, here are the bare minimum characteristics you want to achieve:
Free from distractions, which means no noise pollution from cars outside, and where no kids and pets can suddenly enter (not that you should reject them when they do, but the space should allow for you to attend some Zoom meetings without distractions)
Ergonomic, which means all the furniture pieces and how they're set up is optimal for your health
If you work from home and want to be as productive and comfortable as possible, here are some design pointers and tips you need to incorporate.
Let the (natural) light in
There's a reason why natural light is a sought-after feature in real estate: It makes any interiors look much better, and natural light is good for our health. Our home office is no exception.
If you are about to set up your workstation or office, choose a room in the house that has plenty of big and unobstructed windows. If this is not possible, consider moving your workstation to a room that allows for plenty of natural light. Natural light can help improve your productivity, boost your mood, and even calm your stress and anxiety, so make sure to opt for a room that has a west or south-facing window for dramatic lighting, and an east-and north-facing window for a much softer glow.
Mind the temperature controls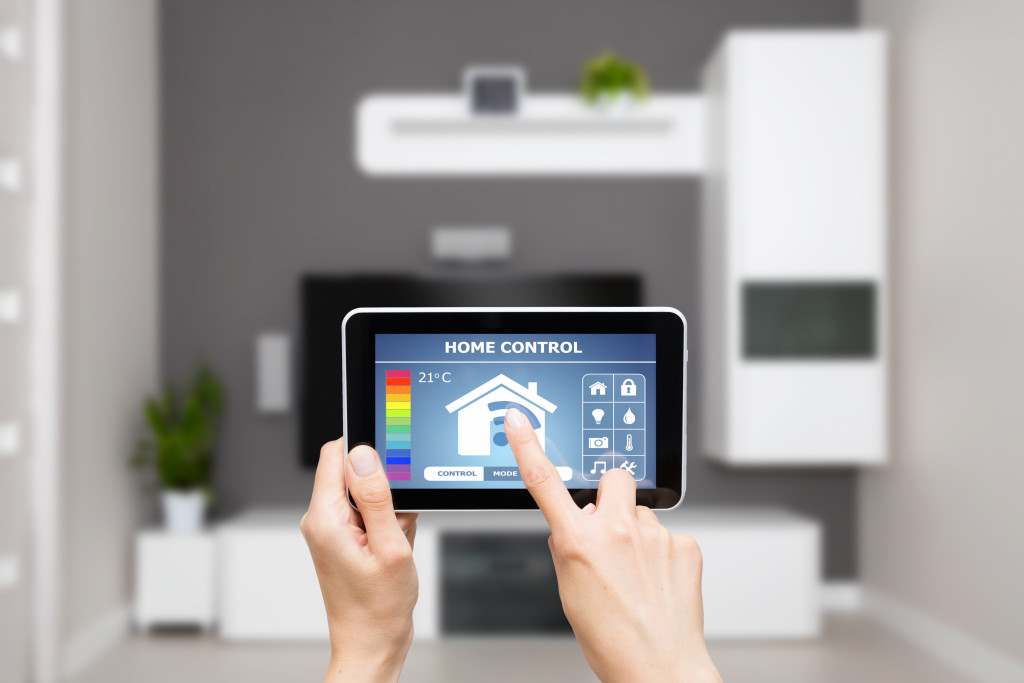 One factor that can affect your level of productivity is the temperature in the room. It's one of those things that we often overlook but can do so much to affect our current disposition. Since we're entering spring and it will be summer soon, make sure that your HVAC system is well-maintained. Consult with a heating and air conditioning expert to ensure that you have access to high-quality appliance parts and services, should there be a need for replacement or repair. When summer rolls around, the last thing you want is to encounter a malfunctioning AC unit.
Once you're sure that all the moving parts of your HVAC system are performing as they should, test out which temperatures feel most comfortable to you. Monitor how each setting makes you feel and how it affects your level of productivity. Identifying how the temperature influences your level of output will help you settle on a setting that works best for you.
Make sure your set-up is ergonomic (and aesthetic)
Office ergonomics is simply the science of process and discipline of designing your workspace in a way that fits you perfectly. This means arranging everything so that you don't have to strain any part of your body to be able to do anything, whether it's typing, answering a phone call, or sitting.
The good news is that there are plenty of shops that offer ergonomic furniture pieces—you only need to specify that when buying a certain piece like a chair or a desk. There are also manual standing desks that give users the option to work while sitting or standing.
Aside from ergonomics, you also shouldn't skimp on the aesthetics of your office. Here are the benefits of setting your office up in a way that looks good to you:
Decor that is both functional and attractive has a positive effect on employees. It helps them stay focused, it makes them look forward to going to work every day. As a homeowner, it also greatly benefits you because as previously mentioned, our environment affects us greatly.
A study submitted to the University of Tennessee at Chattanooga found that negative attitudes were observed to be lower in aesthetically-pleasing workspaces, which goes to show that to invest in your home office is to invest in your well-being and attitude about your work.
Working from home can come with a wide array of challenges, and it is up to us to find ways to lessen those hurdles. A functional, ergonomic, and attractive home office is an investment that homeowners need to make if they want to do better at their job and be healthier every day.