The pandemic has brought numerous changes to the real estate industry in the new normal. After spending the better part of a year indoors and with remote work becoming the new standard for most companies, our homes have never played a bigger role in our daily lives. Homes have been forced to serve as pseudo-offices, classrooms, gyms, and recreational spaces. The new roles taken on by our homes have also affected other aspects of the real estate and construction industry.
Moving and renovation projects have become more and more popular post-pandemic. Today more homeowners are making the necessary changes to their homes to accommodate their new lifestyle. Major metropolitan areas also see more of their citizens moving closer to the outskirts of town and in more suburban areas. Whether you're looking into home improvements that improve your day-to-day life or targeted modifications that can drive your property value up, here are just some great examples.
Exterior Improvements
Your curbside appeal is the first impression future buyers will have of your property. This is why improving exterior aspects such as the home's overall paint job, roofing, fencing, and driveway all contribute to a better first impression. These modifications can range from minor to major changes that require more afterthought as these changes are outside and exposed to the elements. Understanding the materials and techniques you'll need can help reduce costs while still maximizing utility and aesthetics.
Natural Light
An often glossed-over aspect of homes is their window designs. Lighting plays a big, if not the most significant, role in bringing a space to life. Both compact and more open spaces benefit from a well-thought-out window layout and treatment. Great lighting that sheds light on the right spots can once again help with the first impression of your home and contribute to its overall value on the market.
Kitchen
The new normal has more people learning to cook for themselves as fast-food chains and restaurants try to find ways to continue to serve their patrons. However, even before the pandemic, kitchens have often been considered the heart of the home, especially for families. Modern materials, hardware, layouts, and storage set properties apart can quickly capture the heart of a wide range of future buyers. Though kitchen renovations are also known as costly, the investment in such a utilized part of the home pays itself off in spades.
Bathrooms
Along the same lines as the rationale behind kitchen renovations, bathrooms are also one of the top factors that play into a potential buyer's choice. While bathroom renovations can end up being quite tedious and means your bathroom will be out of commission for the time being, it's also one of the more playful projects you can get into. Personalizing your bathroom focuses on different aspects, such as your chosen color palette, tiles, layout, and storage. Bathrooms also usually require regular updating like regrouting and replacing water-damaged hardware to look its best.
Outdoor Spaces
After spending so much time indoors, many homeowners with large backyards are looking to construct separate small structures like sheds, gazebos, or pool houses to better utilize the space without completely taking over the open space. These additions to your property increase the value because of the additional structures and allow for more activities on the property. For major renovation projects like these, where the quality of the build can easily be seen, utilizing a crew who has passed the CSCS examination ensures your workers are safe and efficient.
Landscaping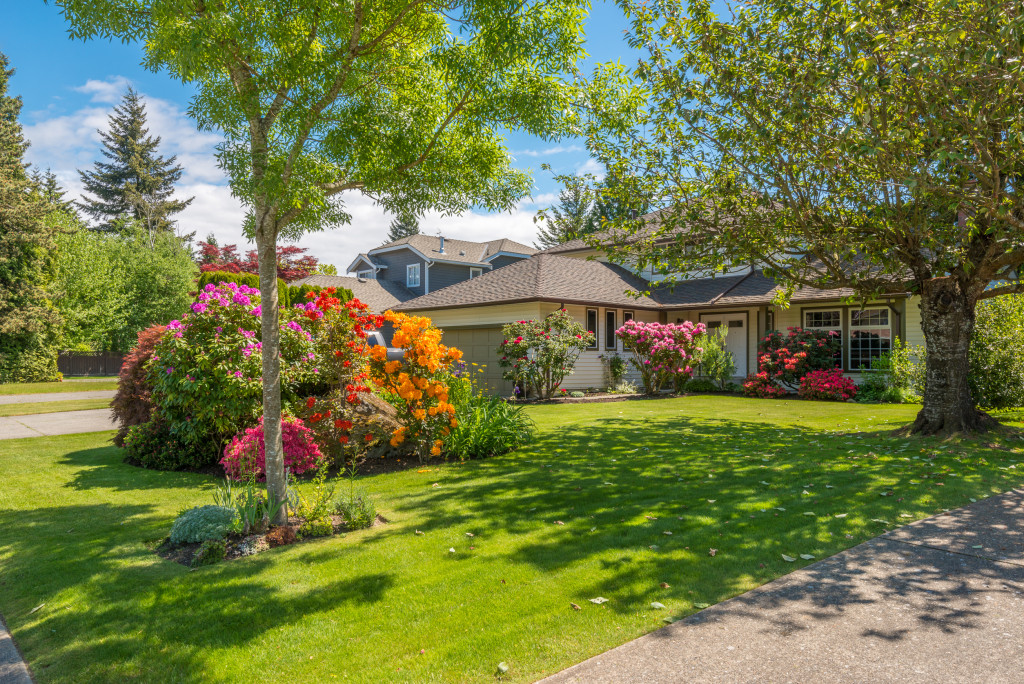 Plants are also a great addition to any home, and this applies to both indoor and outdoor plants. Improving your overall landscaping with additional structures or an overall well-kept lawn also increases your curb appeal. The plants and flowers you add to your home's garden also help prospective buyers which plants can thrive in your area.
Home Office
Perhaps the most sought-after change to homes in the new normal is the need for a home office. This can be as simple as an additional room containing a desk and chair or even a full-on library. As remote work and hybrid work continue to dominate the majority of most industries, finding a property that can accommodate your work-from-home needs is essential. Outside of house hunting, home offices are also relatively simple to set up if you're in a time crunch.
These are just some of the most popular and effective projects you can look into to improve your property value—a combination of classic and modern projects that are guaranteed to bring any home into the modern era.