Virtual reality and augmented reality technologies have never been more prominent than they are today. This is partly due to the necessity of innovation thrust upon various industries by the global pandemic. The crisis has forced us to rethink how we interact with clients and customers.
Real estate is no exception to these changes. Real estate practitioners have had to keep their businesses running despite the limitations on face-to-face interaction. Homebuyers have also had to get used to utilizing various workarounds, such as digital tools to find and compute the most affordable mortgage rates and having virtual meetings with agents.
With its wider adoption today, VR and AR are changing how customers look for properties and how agencies present them to people.
But What's the Difference Between VR and AR?
The most common way for people to use VR technology is via VR headsets. When these are turned on, they visually transport you into a different setting by completely blocking your immediate surroundings and then changing your field of vision through computer graphics. Headsets bring users to another place virtually through their 360-view capacities that also detect movement to allow them to explore.
Augmented reality, on the other hand, does not replace your surroundings with a virtual one. It alters it by adding to what is already there. Various smartphone apps detect your surroundings and overlay images on top of it through the screen of your device.
Augmented reality is not as immersive as virtual reality because you only get to view the projected images on your phone or tablet screen, or sometimes even your AR glasses. It does not entirely cover your whole field of vision, unlike VR headsets do.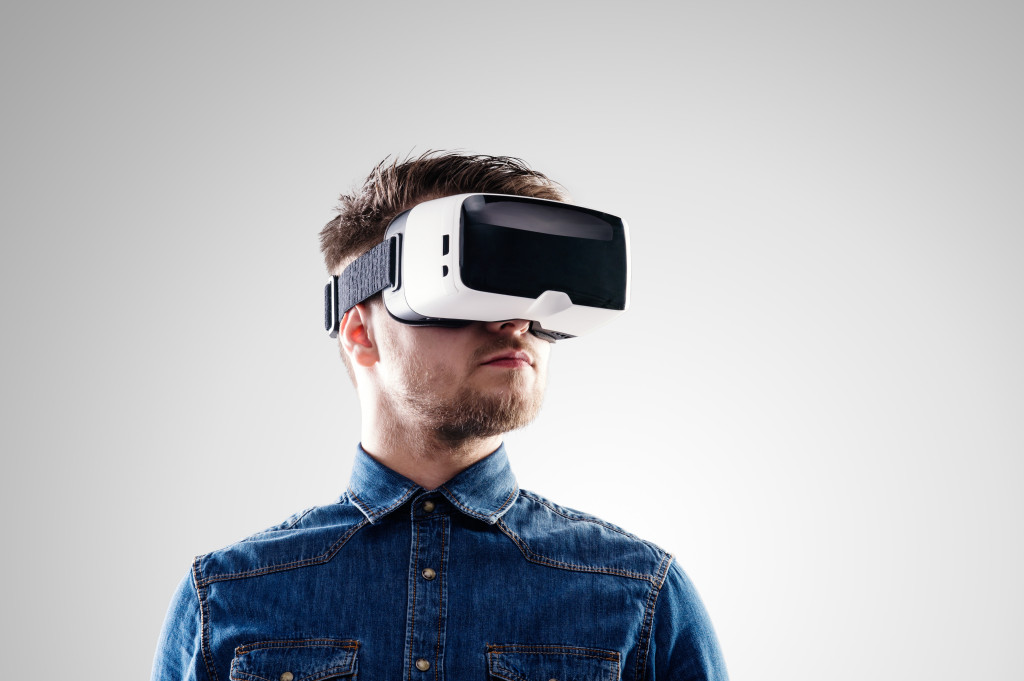 How VR Is Changing How People See Homes
These are how VR enables homebuyers to attend house tours without driving out to the properties themselves.
1. Virtual Home Tours
For virtual home tours, companies usually set up VR stations at their office and have home buyers visit them there to view the interiors of a property. This is especially convenient for those interested in properties located in remote areas.
It lets buyers explore every part of the house with a 3D high-quality view of each room. This makes the job easier for real estate agents, as buyers can look at property features without needing supervision from agents. It saves time for both buyer and agent, which gives room for more productivity for both parties.
Alternatively, agents can also make online self-guided VR tours available to clients. This broadens reach, even opening the possibility of capturing overseas home buyers. It also lets customers view homes on their own time.
2. VRas a Tool for Architects
Architects face the challenge of showing their vision of a property to clients. Through VR technology, they can create a virtual representation of the space and show the client how they envision the home to look.
When a client can virtually walk into a home and see its features, they can better gauge if the floor plan and other features are to their liking. This makes it easier to make a quick decision regarding a purchase.
How Real Estate Uses AR for Interior Design
Augmented reality has also opened up brand new ways to approach how we design and decorate our homes. There are numerous apps today that allow homeowners to try out various colors, styles, and items without changing anything about their homes physically.
One of its most popular applications is in Swedish home furniture brand IKEA's IKEA Studio app. The Apple-only app digitally allows users to place furniture anywhere in their home. It detects existing furniture and the approximate size of your home to properly visualize the addition of certain IKEA items in the space.
Another well-reviewed and widely used app is the home design website Houzz's AR app. It similarly lets users digitally view and place furniture and other items from an inventory of over 5 million products. The app also connects users to interior design professionals, architects, and even repair professionals who they can virtually consult about their home needs.
Through the help of AR apps such as IKEA Studio and Houzz, many homebuyers and homeowners can think through their options before making big purchases.
Virtual and augmented reality technologies are revolutionizing how the real estate industry works today. With the help of these ever-evolving technologies, buyers and sellers alike do not only enjoy better efficiency and convenience. There is also less worry of buyer's remorse and increased satisfaction with properties and home items.