Many companies who initially set their return to offices in late 2021 or early 2022 have postponed these plans indefinitely due to the rapid spread of the Omicron variant of Covid-19. As early as 2021, however, a survey by McKinsey & Company showed that 52 percent of employees preferred a flexible hybrid work arrangement with several days working at the office and several days working from home or anywhere. The World Economic Forum agrees that companies have no choice but to do hybrid work this year and, possibly, in the next few years, as well.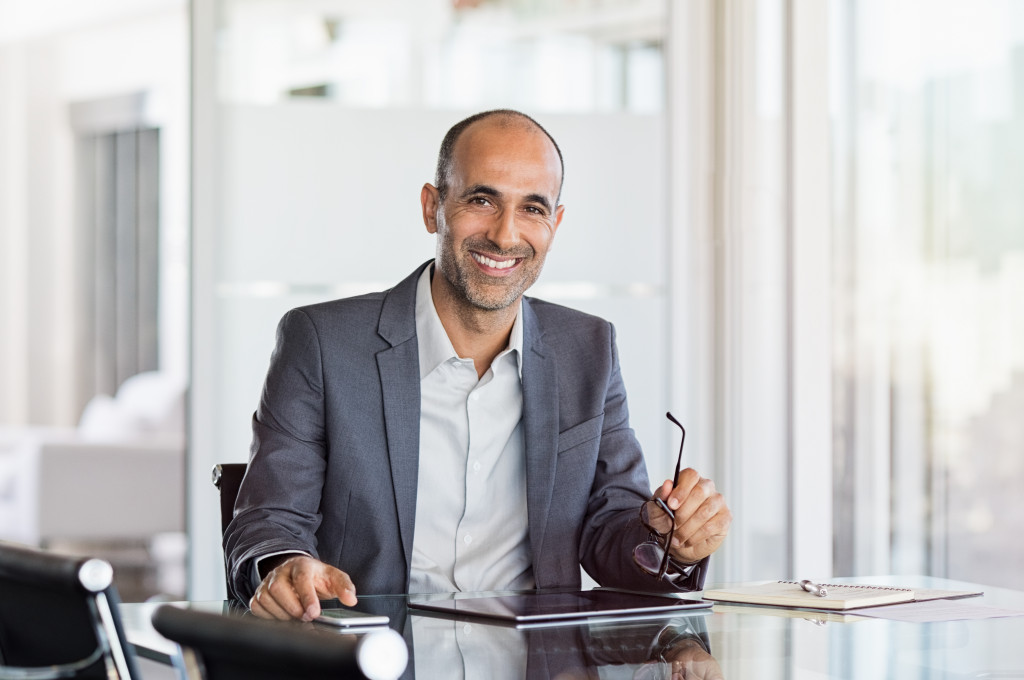 The New Physical Office
Since employees will be at the office only several times a week, they must arrange their schedules so that only a certain number will be present on any given day. Companies must ensure that employees do not come in droves on certain days.
Offices need to be redesigned and renovated for employees who will come to work. Equipment with wheel socks to protect existing floors will be rolling in for remodeling projects. Desks need to be at least six feet apart. If there is not enough space, transparent acrylic partitions must protect workstations. One-way walking routes must be established with employees keeping themselves six feet away from whoever is walking ahead of them. There should be clear signs on the floor.
To avoid gathering in the pantry, employees must eat at their workstations. When getting coffee, using the microwave, or getting something from the refrigerator, employees must go one at a time, waiting for their turn six feet away.
Self-cleaning surfaces must be used throughout the office, especially in areas such as the pantry and restrooms and on handles of appliances and doors. Elevator keypads can also be redesigned using a self-cleaning surface. There is also an existing technology where the elevator can be controlled through smartphones. Alternatively, motion sensors can be used to open and close doors, turn a faucet on and off, and flush toilets. Touchless technology must be used wherever possible.
Include an outdoor area with greenery and distanced seating where teams can hold meetings. It is safer to gather in an outdoor space. When not in use for meetings, it can also provide breathing space for employees. Set a maximum number of people allowed in the area at any time.
The office's heating, ventilation, and air conditioning (HVAC) system must be overhauled to comply with the guidelines for Covid-19 prevention. High-efficiency particulate air (HEPA) filters with a minimum efficiency reporting value (MERV) of 16 or higher, like those used in hospitals, would be best. The installation of ultraviolet (UV) irradiation in HVAC systems will disinfect the air.
Whenever the weather allows, it is best to open windows. Electric fans can further improve air circulation and cool down the temperature in hot weather.
Hand sanitizers and disinfectant wipes must be available for everyone for free. Employees must have these on their desks while there must be touch-free dispensers placed at convenient locations.
Technological Tools for the Hybrid Office
Companies are using technology to monitor employees working remotely. According to Computerworld, the Electronic Communications Privacy Act (ECPA) of 1986 made it legal for employers to monitor employees on company-owned devices without the need to notify the employees. However, some states, like New York, Connecticut, and Delaware, require employee notification. In other states, employers can install monitoring software on computers used by employees. These types of software report on the applications used, websites visited, and the number of keystrokes made by the employee. Some of these take regular screenshots and record video and audio without the user's knowledge. An artificial intelligence (AI) algorithm by Fujitsu tracks the user's facial expression and facial muscle movement through video to detect concentration levels.
Last year, the White House Office of Science and Technology Policy sought the legislation of a bill that would protect the rights of Americans at work or elsewhere against similar AI tracking technologies. It called for the people's freedom from such surveillance. This is now under public consultation.
Computerworld warns companies to avoid using employee monitoring software that is invasive of employees' privacy because this can cause a backlash against them. Companies can lose the trust of their employees and can lose their best talents.
Instead, companies must use technological tools to assist employees in communication, engagement, and collaboration. Technology must also be maximized for remote training and development. The latest immersive virtual reality technology is an effective training tool. Employees are eager to upgrade their skills to create a clear path for growth in the company. If they observe that the company is taking care of the career development of existing employees, they will have an incentive to stay.