Gaming is one of the most popular hobbies in the world. Whether you're a casual player or a hardcore gamer, there's nothing like losing yourself in a great game. That's why many homeowners create their gaming room, where they can set up all their equipment and get the most out of their gaming experience.
If you're thinking of creating a gaming room or sprucing up your existing one, there are a few things you'll need to get started. Here are some essential things every gamer needs to create the perfect gaming setup.
A dedicated space
For many gamers, having a dedicated gaming room is the ultimate setup. It gives you a designated space to set up your equipment. It also allows you to create a custom environment well-tailored to your specific gaming needs.
Having a dedicated gaming room ensures that your equipment will always be ready to go when you are. No more hunting around for controllers or struggling to find the right cables. Everything will be right where you need it, so you can jump into your game as soon as you're ready.
Plus, it allows you to create an optimal environment for gaming. You can control the lighting, temperature, and even background noise level. This way, you can create an environment conducive to your specific gaming style and preferences.
The right equipment
As any serious gamer knows, having the right equipment is essential for getting the most out of your gaming experience. Suppose you're serious about taking your gaming to the next level. In that case, it's crucial to have dedicated equipment set up expressly for gaming. Whether a gaming console or a high-powered gaming PC, make sure you have the right gear to support your gaming habit.
You can also take your gaming setup to further with some additional equipment. A gaming headset can give you a competitive edge. At the same time, a streaming camera lets you share your gaming experience with the world.
Depending on your budget and needs, there are ways to upgrade your gaming equipment. By investing in the right gear, you can take your gaming to whole new levels.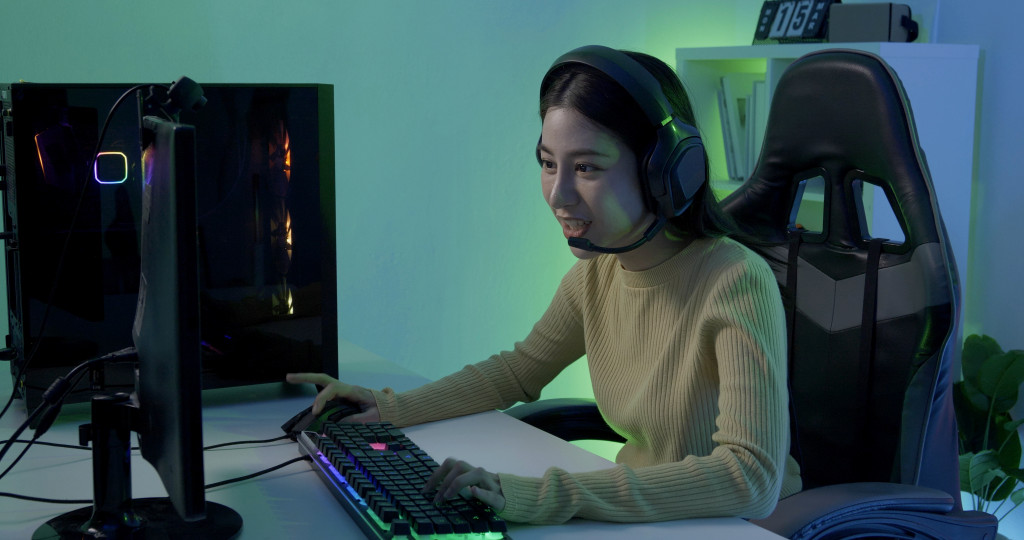 Comfortable furniture
Comfort is vital when it comes to gaming. Spending hours hunched over a keyboard or controller can lead to neck and back pain, carpal tunnel syndrome, and other problems. That's why it's essential to have comfortable furniture in your gaming room.
A good gaming chair should be adjustable to find the perfect position for your body, and it should also have built-in support for your back and neck. A comforter gaming desk will also help keep you comfortable. It will give you plenty of space to spread your keyboard, mouse, and other gaming peripherals.
You can game for hours without worrying about pain or discomfort with the right furniture. So if you're serious about gaming, make sure you invest in comfortable furniture for your ultimate gaming experience.
Good lighting
When it comes to creating the perfect gaming room, many often overlook lighting. However, good lighting is essential for creating a comfortable and functional space. Poor lighting can cause eye strain, headaches, and fatigue, which can damage your gaming sessions. Natural light is always the best option, but if that's not possible, you should opt for a bright and evenly distributed artificial light source.
Bulbs with a high color rendering index (CRI) will produce the most natural-looking light. At the same time, LEDs are suitable for energy efficiency. For a more immersive experience, you can also add accent lighting to highlight certain room features.
Ultimately, by taking the time to create a well-lit gaming space, you'll be able to enjoy your games even more.
Comfy sweater
A lot of people think that fashion and gaming don't mix. They see gamers sitting in a dark room wearing nothing but a stained wife-beater and a pair of boxers. And while there may be some truth to that stereotype, it doesn't mean that gamers can't also be stylish.
One of the latest trends in gaming is to rock a comfy sweater while you play. It keeps you warm, but it also shows that you're a modern gamer who takes style seriously. And when it comes to finding the perfect comfy sweater for your gaming room, there's no better option than a stylish bell sleeve sweater for women and a classic pullover sweater for men.
The comfortable fit and trendy style of sweaters are the perfect way to add a touch of fashion to your gaming setup. When looking to spice up your game both on and off the screen, ensure you have a cozy sweater in your gaming room. You'll be glad you did.
A well-equipped gaming room is vital for any gamer looking to take their gaming experience to the next level. By investing in space, equipment, and some essential gaming gear, you can create a perfect space for hours of uninterrupted gameplay. So if you're serious about your gaming, make sure to set up your room with the right items. After all, a comfortable and functional gaming space is essential for any true gamer.