Due to the pandemic, people have opted to use online food delivery apps instead of eating in a restaurant. Delivery apps have significantly made it more convenient to enjoy your favorite meals in the comforts of your home.
With the emergence of delivery apps, local restaurants have started using these innovations to expand their business. Most of them are developing apps with unique features that still cater to the changing needs of their customers.
Below are seven of the delivery apps that will help restaurants reach their customers.
Grubhub
Grubhub is the most popular delivery app in the U.S. because it reaches 1,100 cities. It's also popular because it offers restaurant takeaways and deliveries from roughly 50,000 establishments. It also garnered a fifth place in being the most installed delivery app in the U.S. Grubhub also allows customers to look for their favorite meals, allowing the app to offer menus to choose from based on your search.
You can categorize their 50,000 establishments into a customized query. You also have the option to order meals four days ahead. If you're worried about its payment methods, it offers Android Pay and PayPal. It also features basic search and reviews.
You can get the app for free. Hence, restaurants might have to deliver orders within a specific range or charge a delivery fee.
Uber Eats
Next to Grubhub, Uber Eats is the second most installed food delivery app with over 4.5 users in 2019. It's available in roughly 500 cities, including Chicago and LA. Even though you're in rural areas, you have nothing to worry about! Uber Eats is also famous for its user-friendly and easy-to-navigate interface. You can use your Uber profile to order.
You might have to pay a 10% delivery fee. But despite that, you can still enjoy promo and discount codes for your favorite brands. It can also deliver from the nearest grocery stores or restaurants. Uber Eats also has the option that allows you to do a query based on popular near you, new items, cuisine types, dietary restrictions, and location.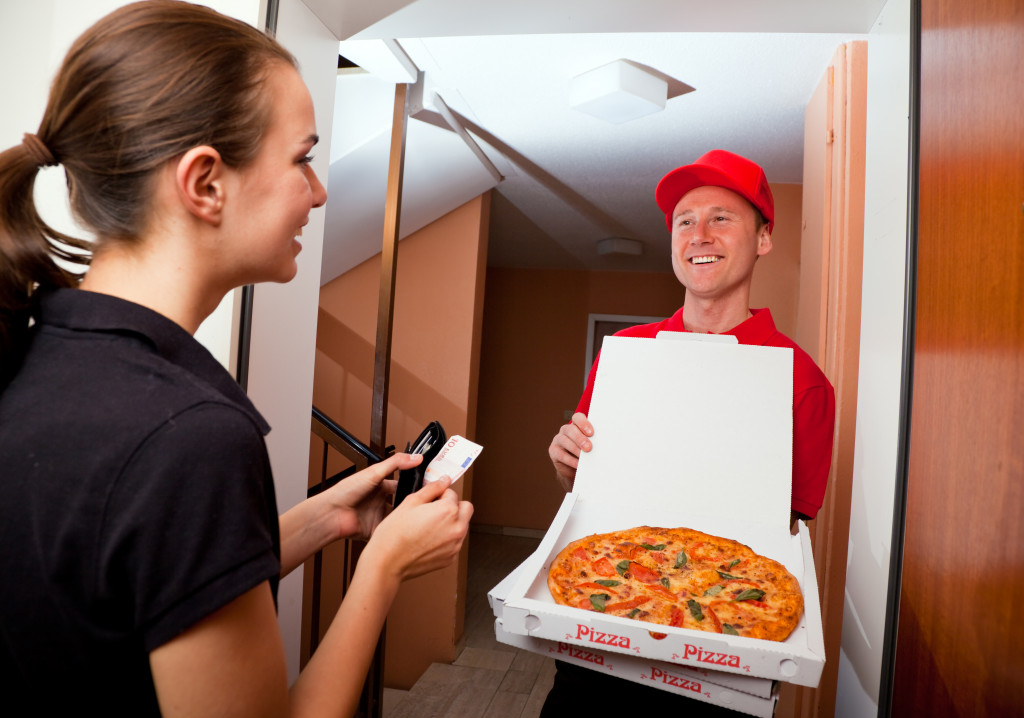 Delivery.com
Delivery.com is available in nearly 100 cities, catering to the customer's needs for dry cleaning services, alcohol, food, or groceries. It will not ask for a delivery fee on its side, but the restaurant might charge you for that or have a minimum order requirement.
It also has a loyalty program, giving you points that you can use for free delivery or discount. Delivery.com also features an easy-to-navigate interface by classifying their partners and recommending meals or restaurants based on your previous queries.
GoPuff
GoPuff is available in 80 cities. Its focus is on delivering phone chargers, drinks, ice creams, snacks, and similar products. It's similar to a digital convenience store that still caters to the needs of the Southern and Midwest parts of the U.S. GoPuff charges a fixed delivery charge of $2. It allows you to search for items by their brands or names.
It also boasts a collection of products that you might be interested in the future. It also allows you to place an order in advance to get fresh products at a specific time.
Caviar
It's a delivery app that caters to the needs of customers from 20 cities in the US. It also allows customers to buy meals from different food establishments, focusing on local and high-end restaurants. Its delivery charges will depend on the distance from the restaurant to your location, adding an 18% charge on your order.
You can also avail of their free delivery for your first order. You also have the option to change your orders and track the delivery in real-time.
Seamless
Seamless is the older sister of GrubHub, with 20 years of existence in the market. It can offer fast delivery services with simple ordering procedures. It's available in major cities such as LA and NYC; hence, you might not be able to use it in smaller regions. On top of offering door-to-door delivery, it also allows you to take your order out.
Like other apps, it offers promo and discount codes for popular food establishments. Its partners also don't charge delivery fees. You can also track the orders in real-time and look for restaurants using its search filter. But you can only find a limited number of cuisines in the app, which are ultimately similar to the ones you can find in GrubHub.
Delivery apps are the most convenient means of getting your orders delivered from your favorite restaurant. You can also find numerous options, with many apps offering pickup and delivery from liquor stores, grocery stores, convenience stores, and restaurants. But you still have a lot of factors to consider when choosing which app to download.