When it comes to starting a beverage business, there are many things to consider. But one of the most important is knowing what kind of investment you're willing to make. A suitable investment can mean the difference between success and failure.
So before you launch your beverage business, take the time to explore your investment options and choose the one that's right for you. With the right gear, you'll be on your way to success.
Here are a few investments to consider when starting your beverage business:
Commercial Blenders
If you're thinking about starting a business selling blended beverages, you'll need to invest in a quality commercial blender. Blenders come in all shapes and sizes, so choosing one to fit your needs is essential.
The first thing to consider is the type of drinks you'll be making. If you plan on making smoothies or milkshakes, you'll need a powerful blender that can handle ice and frozen fruits. If you're only interested in making juices, you can get away with a less expensive model. The next thing to think about is capacity. Make sure to choose a blender with a large enough pitcher to accommodate your volume of business. Finally, consider features like speed settings and pre-programmed settings, making operating your blender easier and more efficient.
With so many options on the market, choosing the right commercial blender can be daunting. But with a bit of research, you can find the perfect machine for your business.
Bottle Filling Machine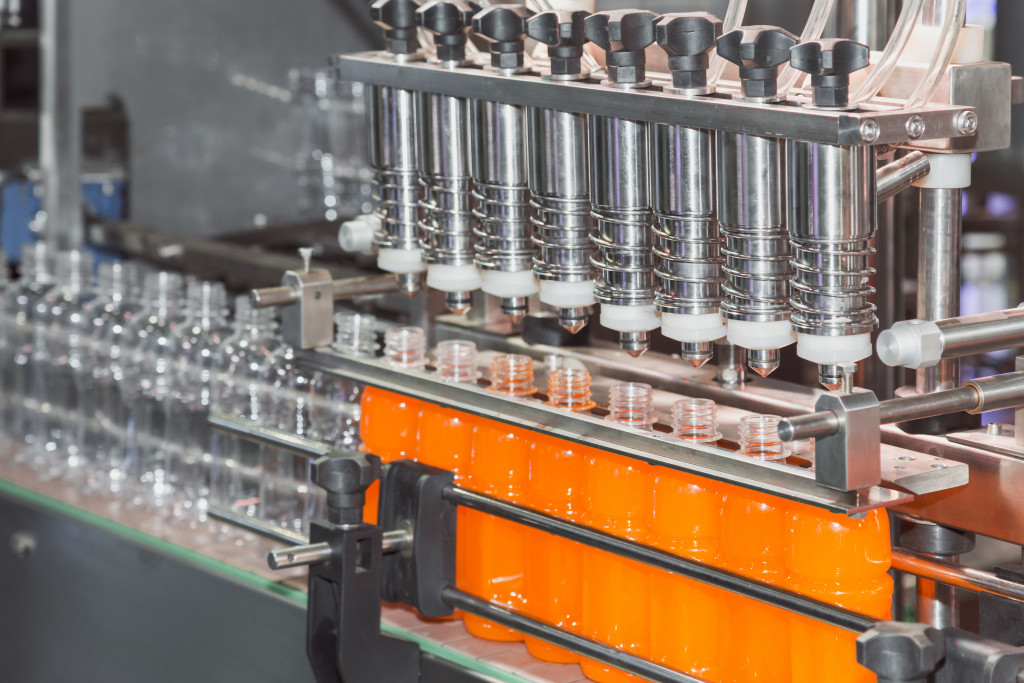 You know that packaging is crucial for the product in the beverage business. And when it comes to packaging, one of the most important decisions you'll make is the kind of bottle filling machine you want to invest in.
A bottle filling machine is a vital part of any bottling operation. It's responsible for filling bottles with the product and ensuring equal filling. It can help you automate your beverage production and improve the quality of your products. In addition, a bottle filling machine can help you save time and money in the long run.
If you consider investing in a bottle filling machine, be sure to choose a supplier that you can trust. There are many excellent bottle filling machine manufacturers, but not all are equal. It is also crucial to consider the cost of the machine and whether it will be worth the investment. With the right machine, you'll be on your way to success in the beverage industry.
Shrink Wrap Machine
As anyone in the beverage business knows, shrink wrap machines are essential for keeping products well-protected and looking professional. A shrink wrap is a thin plastic film applied to products and then shrunk down using heat, creating a tight, custom fit. It helps to keep products free from dirt, dust, and other contaminants. It also provides a tamper-proof seal that helps to deter theft. In addition, shrink wrap can be printed with logos or different designs, adding an extra layer of branding to products.
While shrink wrap machines may seem like a luxury, they can save businesses money in the long run. It provides an extra level of protection that can help extend the shelf life of products. This feature can be significant for perishable items like food and beverages.
In addition, using shrink wrap can help businesses to avoid costly packaging repairs or replacements. Shrink wrap machines are a valuable addition to any beverage business, given all these benefits.
Labeler
It's also essential to have a high-quality labeler. A labeler helps businesses to apply labels quickly and efficiently. You can use it for various purposes, including applying nutrition facts labels, barcodes, and other product information. You can also use labelers to apply labels to bottles, cans, and other containers.
A labeler can be a valuable investment for any business in the beverage industry. It can help you improve the quality of your products and save time on labeling. Doing so can help you increase your production efficiency and boost your bottom line.
It's best to choose a durable and easy-to-use labeler. With the right machine, you'll be on your way to success in the beverage industry. Thus, improving your product's quality and your company's bottom line.
When it comes to the beverage business, you should consider a few critical investments. These include the items mentioned above and equipment. With these machines, you'll be able to automate your beverage production process and improve the quality of your products. This way, you'll be able to start on the path to success in this industry.