When it comes to moving your business, there are many things that you'll need to consider. You'll have to make sure that you have enough time and money for the move. If this is an existing location, you will also need to plan any changes in the environment if the new site is different from the old one.
When considering all of these factors, it's not uncommon for people unfamiliar with office relocation processes to experience a great deal of stress and worry about their future success at starting over in a new location. However, by following these eleven steps when planning your next move, you can ensure that everything goes smoothly!
1. Define Your Reasons for Moving
The first step is to define your reasons for moving. Whether it's because you need a larger space, you're relocating your target market, or you want to be in a better location, you should have a clear understanding of why you're making a move. Once you know your motivations, it will be easier to set goals and make decisions about the move.
2. Evaluate Your Current Space and Location
The next step is to evaluate your current space and location. If you're not happy with your current situation, then moving may be the best option. However, if you are happy with your current space but want to move to a better location, you should consider the pros and cons of each option before making a decision.
3. Search For New Location
After you've decided that moving is the best option for your business, it's time to start searching for a new location. You should consider the size of the space, the layout, the price, and the surrounding area. Once you've found a few potential locations, you can start visiting them and comparing them side-by-side.
You can hire an agent to get you a private office for rent that meets all your requirements like the area, proximity to public transport, and other factors.
4. Consider the Costs of Moving
Another important factor to consider is the cost of moving. There are many costs associated with relocating, such as renting a moving truck, hiring movers, and paying for new office furniture. You should create a budget and make sure that you have enough money to cover all the costs associated with the move.
5. Make a Plan
Once you've considered all the factors, it's time to make a plan. You should create a timeline of when you want to move and start making arrangements. If you're hiring movers, you should book them in advance. You should also start packing up your office and figuring out how you're going to transport everything to the new location.
6. Notify Your Customers and Clients
One of the most important steps is to notify your customers and clients about the move. You don't want them to be surprised when they try to visit your office and find that you've moved. You should send out an email or mail notification about the move and include the new address and contact information.
7. Transport Your Equipment and Supplies
You'll need to transport all of your equipment and supplies to the new location. This includes your office furniture, computers, and other electronics. You should pack everything carefully and make sure that it's properly labeled so that it's easy to find when you arrive at the new office.
8. Set Up Your New Office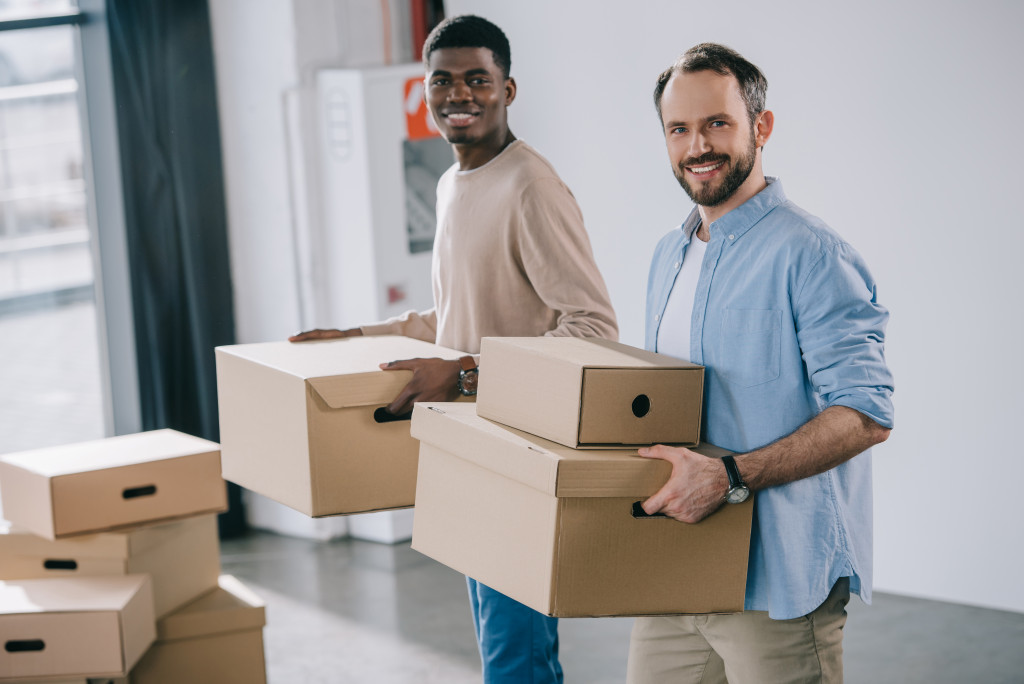 Once you arrive at the new office, you'll need to set up your new space. This may include installing new furniture, setting up your computer network, and hiring new employees. You should budget enough time for this process so that you can avoid rushing through it and making mistakes.
9. Transition Your Business Operations
It's important to plan for the transition period when moving your business. This includes ensuring that your website and contact information are updated with the new address, discontinuing services with your old location, and training your new employees. You should also make sure that your customers and clients are aware of the transition so that they don't experience any interruptions in their service.
10. Manage the Stress of Moving
Moving can be a stressful experience, but there are ways to manage the stress. Make sure that you take time for yourself during the move and don't try to do everything yourself. Ask for help from your family and friends, and take some time to relax after the move is completed.
11. Review Your Progress
After you've settled into your new office, it's important to review your progress. Make sure that the move was successful and that you're happy with the new location. If not, don't be afraid to make another move. With careful planning and execution, relocating your business can be a smooth and successful experience!
Conclusion
Moving your business to a new location can be a challenge, but it's important to consider all the factors before making a move. By following these tips, you can make sure that the transition is as smooth as possible!