Nowadays, technology has been a significant aspect of every business. Most transactions often happen online, especially now that a pandemic exists. Given this point, it is an utmost priority to secure a safe online negotiation. This way, owners can prevent data leakage or breach. Data have to remain confidential at all costs.
Almost all sectors rely on technology in most of their business deals. That may include ordering supplies or reaching out to clients. For this reason, all of these firms must ensure that they have the best security systems to protect valuable information. Aside from that, they must also observe safety precautions while doing online operations.
Tech Safety Measures
Technology is a common denominator in the business world. However, using it has to be safe all the time. In this case, the following tips can help ensure online safety:
1. Use social media with utmost care.
Social media networks have been one of the best options for business firms to broaden their market reach. People are now using these platforms at increasing rates, and companies are taking advantage of them to create brand awareness. However, owners should ensure that their members know what actions are safe and unsafe for the company. Given this point, every firm needs to provide guidelines that members must follow during access to social media sites.
2. Keep personal information professional and limited.
It is best to avoid sharing too many personal details, such as home address. As much as possible, only share the data that has something to do with work like expertise and business contact details. Do not provide information that can put the business and the members at risk. In this case, all employees have to know their limits to avoid future trouble.
3. Always use strong passwords.
Every computer and online accounts must have strong passwords. Aside from that, having scheduled changing of these passwords can help the firm stay protected. The firm also has to share these passwords with members whose works demand them. This way, you can still have compact control with all your business accounts.
4. Invest in business insurance.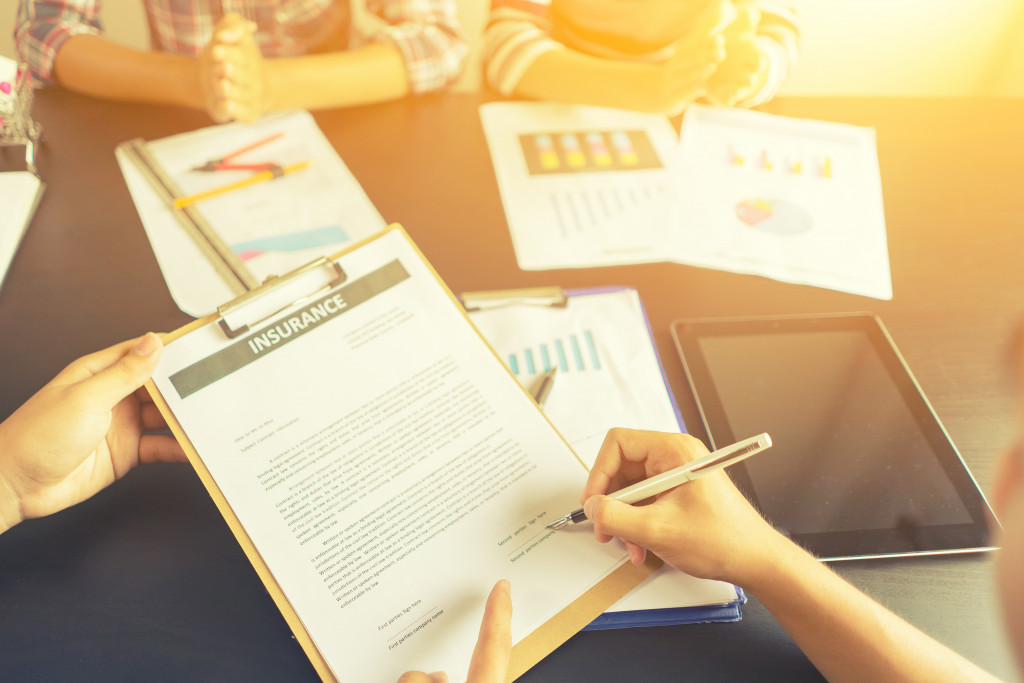 A business also needs insurance, and you only have to select which ones fit your firm. Take general liability insurance as an example. In this case, the coverage plan of general liability insurance can protect your business. It can cover expenses when your company is liable for any damage, such as like electronic damage. In this case, your firm's actions may have resulted in the loss of valuable data for another business entity, requiring you to pay.
5. Invest in anti-virus software.
Software for virus protection is one of the best purchases you can have for your business. It can protect you from malware that can damage your computers and other business networks. Aside from that, cyber crimes do exist, such as data breaches. It can result in threats that may ruin your company's reputation.
6. Use separate computers for business and personal deals.
As much as possible, you have to use a different computer for personal and business transactions. Doing this can help you protect your business data. Moreover, you have to keep this practice with your employees as well. All of you have to take part in making the business safe with its operations.
7. Invest in IT, staff or consultants.
Another option that you can hire staff or consultants that can handle your IT matters. They can help you create more secure policies that the business needs. This way, you can protect your company data at all costs. Aside from that, having someone around who knows stuff about computers and technology is beneficial for the business. They can help you avoid being a victim of a data security breach.
8. Ensure your employees follow safe working practices.
The pandemic has made some members work from home. For this reason, you have to provide guidelines that they must follow while working at home. In this case, they should refrain from using public Wi-Fi networks. You can also use software that can record your members' activities. In effect, you can assure that they access only the sites that their work requires.
The digital age offers massive benefits to everyone using it. However, everyone also has to use it with utmost care. This way, they can protect their safety while doing online transactions. Business firms have to implement guidelines when using online systems to protect their valuable data. Otherwise, they may encounter a data breach.
It is best to have tech safety practices than have problems that can ruin the company's name. Moreover, it can be a source of legal complaints that will also affect its reputation.